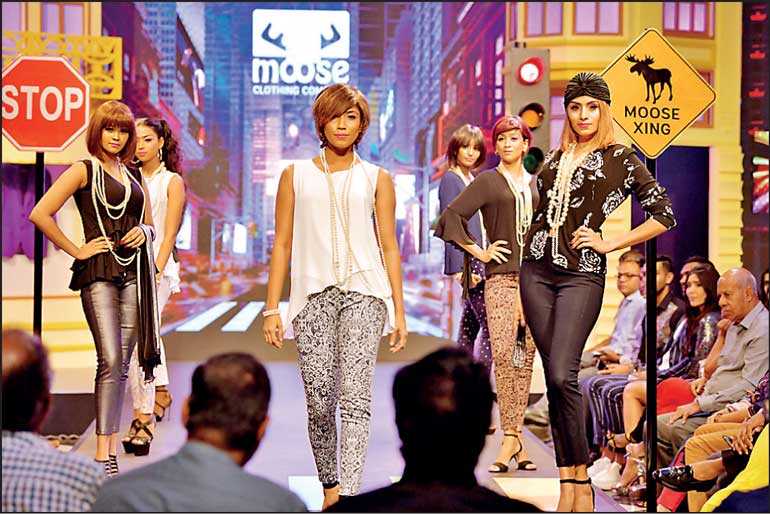 The Moose Clothing Company recently made its runway debut at an exclusive fashion showcase that was attended by an elite gathering of the country's top retailers, VIP guests, members of the media and celebrities alike.
Held under the theme 'A Prismatic World', the high-street-inspired fashion show took place at the Stables at Park Street Mews and unveiled the company's bottom-wear and athleisure collections of vibrant, chic, simple and stylish bottom-wear for men and women.
For the event, the entire venue was transformed into a brightly lit up fashion street with a high-end city look and feel and the runway show exuded the energy, finesse and flair that is a quintessential part of this fresh and dynamic brand.
Filling an important void in the local fashion industry, the Moose Clothing Company is dedicated to crafting the perfect fit which creates "clothes that speak". The company's range of pants and shorts enables the bold and daring to step out, looking and feeling like the best version of themselves at all times.
Each garment is carefully created, using state-of-the-art production processes, the finest fabrics and a range of contemporary cuts and styles that offer comfort with a touch of effortless elegance and sophistication.
The chinos available range from casual, preppy shorts in hues of classic beige, ivory, brown and navy to more formal slim-fit chino trousers in shades of olive, black and tan as well as joggers in a range of colours and prints. With a variety of colours, playful prints and timeless designs, the Moose Clothing Company's bottom wear can be mixed and matched to create fun and versatile looks for every occasion.
Commenting on the collections and the event, Moose Clothing Company Executive Director Hasib Omar stated: "The Moose Clothing Company strives to offer ultimate luxury and comfort that enables anyone to look good and feel effortlessly put together at all times. Our clothing is designed to complement the lifestyles of new-age professionals and young go-getters who need everyday bottom wear staples that they can wear to work, lounge around in, head out for dinner in, hang out with friends in, and much more. We have researched over 150 body types to create pants and shorts that have the perfect fit, this gives each garment a sense of quality and refinement and helps it to elevate an entire look. Moose offers exceptional style and high-quality clothing at a reasonable price point, due to our industry experience, technical know-how and competence in delivering high-end innovation. This has enabled Moose to stand out from many of our competitors. We are able to offer great value through our bottom-wear ranges and offer our customers across the island greater choice, versatility, freedom, value for money and quality that is on par with global standards. We are also looking at venturing into other product categories with the goal of offering the same experience. We are committed to empowering them through style and giving them the confidence to look their best and live their best life."
The Moose Clothing Company has been a rising force in the fashion industry since its initial launch in 2015 and has expanded its footprint across Sri Lanka, offering its products in 135 partner stores island-wide. Moose will be expanding their product categories and is presently selling in the Middle East market and would be launching in India in August.
Dedicated to driving product innovation, research and development, speedy delivery, and an unwavering commitment to creating world-class products, the Moose Clothing Company team is well-positioned to meet the growing need for stylish, high-quality bottom-wear and clothing in Sri Lanka.